Refinishing Stairs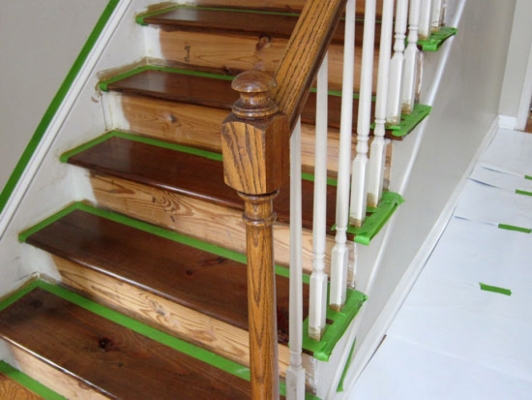 Hardwood stair refinishing can be most rewarding. This is one of the most difficult of all tasks requiring excellent skills, a tremendous amount of hard work and the proper tools. For this reason the refinishing of stair treads is almost always left to the hardwood floor professional. Few aspects are as labour intensive and at the same time require a good skill set. For these reasons the refinishing of a stair case can easily be the most expensive feature in your home to restore in relation to area. We strongly feel it well worth the investment to have a professional refinish this valuable element of your home.
Careful attention is paid to not damage your finished stringers or risers. Each tread is treated like an antique piece of furniture. The enduring beauty of professionally finished hardwood treads will enhance any home.
Often a stair case links two different flooring levels. When refinished along with the hardwood floors they become one with the stair case. What is more, in many heritage homes as you step into the house, the stair case confronts you immediately. A beautifully refinished stair case then becomes the showpiece and focal point of the home. We invite you to check out our gallery wherein you will see some examples of restored stair cases.
---